The special rapporteur on the independence of magistrates and lawyers of the United Nations, Diego García Sayán, expressed his concern about the allegations that have been presented against the candidate Andrés Arauz, which seek his disqualification from the electoral process of this 2021.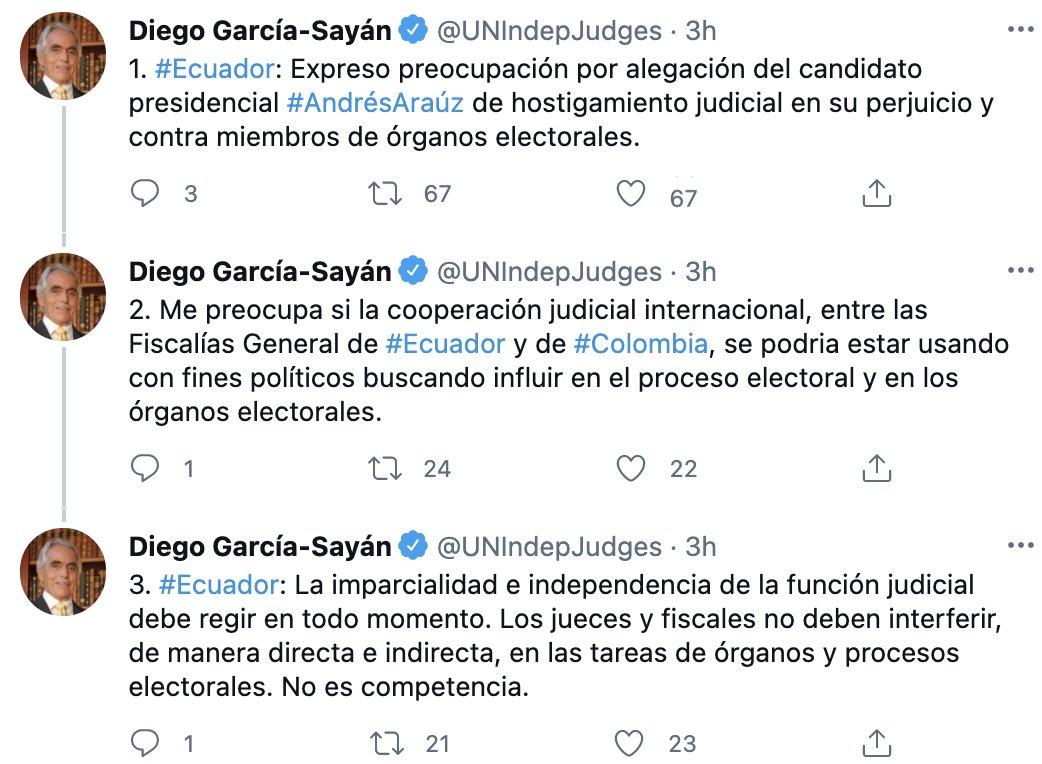 «I express concern over the allegation of presidential candidate Andrés Arauz of judicial harassment to his detriment and against members of electoral bodies,» said the official through his personal Twitter account.
In addition, he made reference to the meeting held between the attorney general Diana Salazar and the Colombian prosecutor, Francisco Barbosa, to exchange information on the capture of alias «Uriel», after the news about an alleged financing of the ELN to the Arauz campaign, same that was denied.
Regarding this fact, García warned that this international cooperation could be used for political purposes, seeking to interfere in the normal development of the elections, for the second round, scheduled for April 11.
«I am concerned if international judicial cooperation, between the Attorney General's Offices of Ecuador and Colombia, could be being used for political purposes seeking to influence the electoral process and electoral bodies,» he criticized.
The rapporteur drew attention to the role of judges and prosecutors and their interference in electoral processes and recalled that «the impartiality and independence of the judicial function must govern at all times.»